As a homeowner contemplating a new spa, you probably envision a relaxing refuge from the cares of your day.
An improperly placed spa will reduce your enjoyment of your new purchase. Take the time to carefully consider proper site placement before you purchase a new spa.
Spa Site Considerations: Access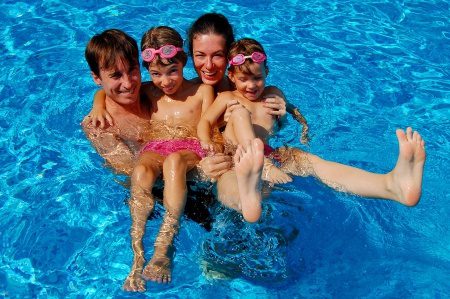 Have you found just the right secluded spot for your spa? Make sure it isn't so secluded that your installation technicians will be unable to access it. Consider potential obstacles such as door and gate sizes, and measure before you plan.
In addition to delivery access, you will also want easy access to your new spa! A shady corner of the backyard might seem like a great spot in June, but come December you may hesitate to make the trip from the comfort of your warm bedroom. Choosing a spot within easy reach of your bedroom or bathroom might be a more attractive year-round option.
Ease of access is great for the adults in the home, but keep in mind that not everyone should be able to use the spa freely. If you have small children, your spa might present a dangerous attraction if placed in an unfenced area. Keeping your spa out of site of the street and away from neighbors will also deter potential vandalism.
Spa Site Considerations: Solid Foundation
Most spa manufacturers recommend either a four-inch cement slab foundation, or a deck capable of holding at least 150 pounds per square foot. Other foundation options include a crushed gravel bed, prefabricated hot tub pad, cinder blocks or pavers, or placing the spa inside an in-ground vault.
Consider not just the costs associated with building each type of foundation at your preferred site, but also the value they might add to your home. A crushed gravel bed or prefabricated pad may be very economical options, but an in-ground vault or concrete slab may be more attractive and secure.
Spa Site Considerations: View
Staring at the back of your porch or a fence post can grow tiresome after a while. Consider that a pleasant visual environment will enhance your spa experience. While placing a spa directly underneath vegetation might present some cleaning challenges, you may want to have something green to look at while relaxing in your spa.
Do you already have a great view in mind? That gorgeous wide-open vista may seem perfect, but take care to choose a location where you will also not be placed on view to the street, or your neighbors. The right balance of privacy and visual appeal will make your spa the refuge you want it to be.
Do you have just the right spot in mind now? Contact Black Pine Spas today, to get started.
With over 30 years experience furnishing beautiful spas to the Seattle area, Black Pine is Puget Sound's oldest and largest dealer of high-quality hot tubs, swim spas, and certified repair services. Call 1 800 896 5405 today, to order your new spa.