Bring versatility, luxury and style to your backyard oasis. Introducing TidalFit Swim Spas, the elite spa system revolutionizing the industry. Equipped with innovative features, robust design and stylish exteriors that set the standard, this is one investment you can enjoy for many years to come.
Standard features on TidalFit® swim spas include a waterfall, special micron filters, exercise equipment, and more. Hydrotherapy options soothe sore muscles after your workout and LED lighting and sound systems to provide entertainment and relaxation.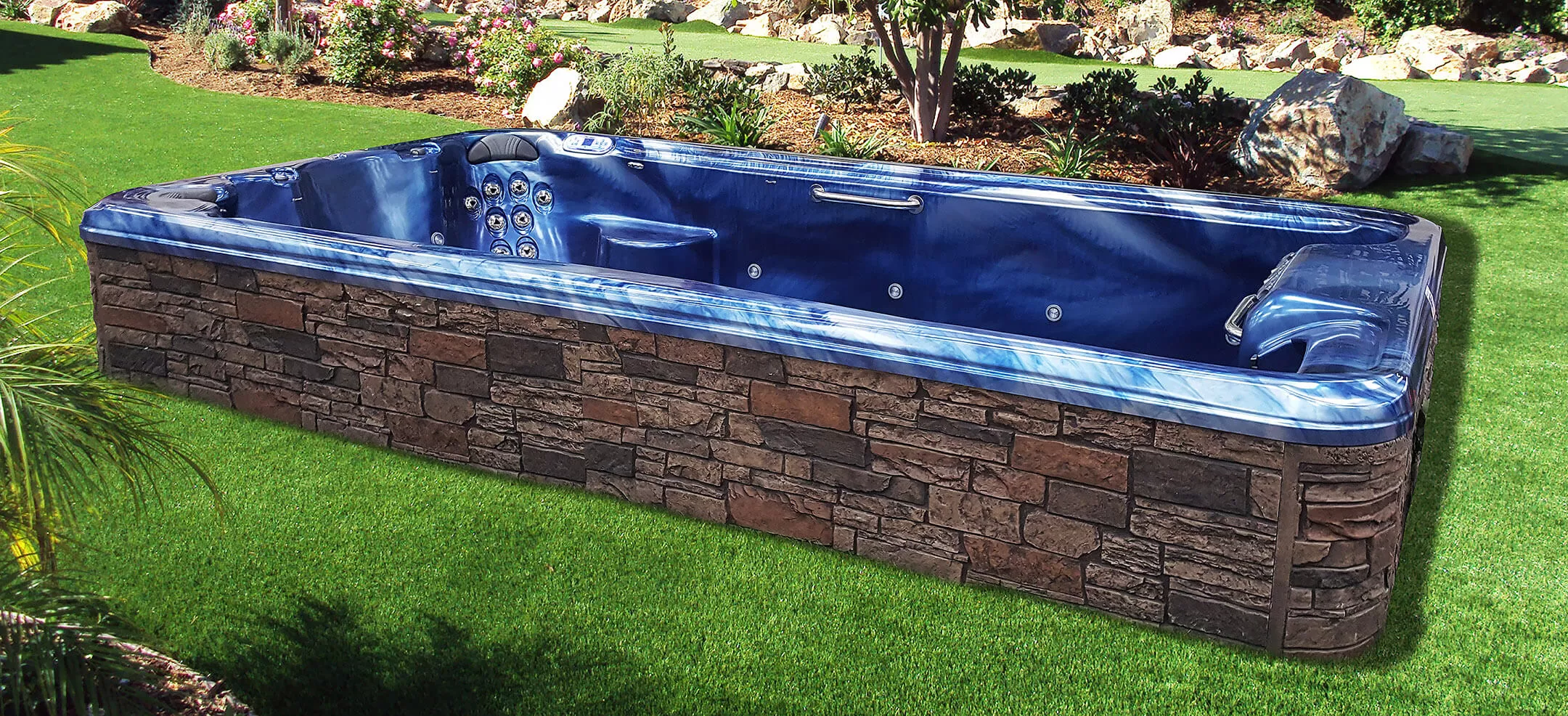 Our best-selling swim spas
Find the best TidalFit® Swim Spa model for your home, health and lifestyle. We have 20+ models for you to shop from!
THE RIGHT HOT TUB FOR YOUR LIFESTYLE
Where Style Meets Innovation
When it comes to the hot tub lifestyle, there really is no comparison. You can enjoy a simpler approach to health and wellness, all while making a lasting investment in your home and quality time with loved ones. When complemented by the innovation and excellence that is synonymous with Jacuzzi® Hot Tubs, you'll wonder how you ever went without.
Made With Excellence In Mind
Jacuzzi® Hot Tubs are designed and engineered with your health, wellness and enjoyment in mind. Only the best materials are used to craft these industry-leading spas to ensure a product that is nothing less than superior.
Unforgettable Hydrotherapy Experience
The right jets can create the perfect spa experience. Surround your body with jets that create the perfect mixture of water and air and leave your body feeling revitalized.
A Modern Approach To Spa Ownership
Intuitive and user-friendly, these control panels allow you to control every aspect of your hot tub. The control panel is resistant to water and illuminates at night. This upgrade is an option on most Jacuzzi® Hot Tubs.
About TidalFit® Swim Spas
Everything you need to know about TidalFit® Swim Spas, from the features and technology, to how one can change your life for the better.
Our commitment to customer satisfaction shines in our reviews. Just see what our customers have had to say!
Very happy with the service provided
I had a technician came to my house by the name of Marcus, his customer service was outstanding. It tells me all I need to know about Black Pine Spas. I am very happy with his work and care given to fix my problem. Thank you, Black Pine
Our experience with Black Pine Spas was incredible. Santi was our sales associate and he was so helpful and friendly and it was really nice being able to contact the same person throughout the process for updates along the way. The guys that installed it were really nice and did a fine job. We haven't hooked up our spa yet because we have to replace the electrical panel, but it looks exactly as expected! Thank you so much!
This place is amazing. We looked at probably a half dozen places during our search for the perfect Hot Tub, driving all over Western Washington. Their prices are better than what we saw other places for a similar tub. While the Black Pine tubs looked nicer, and seemed to be of higher quality. Santi our salesman always went above and beyond to answer any and all questions. If you're looking to order a hot tub, I would highly recommend coming here. If shopping around this place is by far the best. If you need a hot tub, come here, ask for Santi and you'll be happy you did.
Our experience has been fantastic!
Marcus helped me troubleshoot via video calls and texts. He was the PERFECT person for this. He clearly explained what he wanted to cover, what I should do do, and the result he was anticipating. He made me feel confident in what I was doing and we were able to troubleshoot and solve the problem very efficiently. He probably spent a couple hours assisting me and went above and beyond.
Big thank you goes out to Rachel too!
After looking at every hot tub store from Lakewood – SeaTac, we chose to purchase with Black Pine. We've had the tub for over 3 months and whenever I come into the store to buy chemicals, our salesman, Tony, always remembers my name and says hello. That's amazing service in my book! And for all those hesitating because the wait time may be a little longer to get the tub delivered, just do it. You won't regret it!!! And you can spend the wait time coming up with cute decorating ideas for around the tub. Good things are worth waiting for 🙂
Definitely Do Business Here Again
Tony was great! Ready when we arrived and didn't mind that I had 2kids in tow.
He explained everything about the two hot tubs I was interested in and the set up and delivery process clearly. We got just what we needed and the other items we want. It all went very smoothly! I would highly recommend Tony and Black Pine Hot Tubs! This was our 3rd hot tub purchase in 40 years of enjoying them. And the most easy, no nonsense transaction ever.
My husband and I recently visited Black Pine Spas and purchased an amazing hot tub! We were impressed with our sales rep (Mike) who was very knowledgeable. He listened to what we needed and helped us select the best option for our needs. We appreciated how professional and honest he was during our visit. The customer service has been wonderful, from getting educated on the spas, to selection to delivery. We are completely satisfied with Black Pine Spas! And we must say, our necks and backs have been feeling great ever since we started soaking in our hot tub regularly!
Our team of home and backyard leisure experts are here to help you, every step of the way. Get in touch with us today!