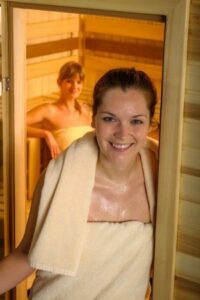 Get More out of your Sauna
Don't have a sauna yet? Check out the sauna showroom and remember we ship anywhere within the lower 48 and will beat a competitors price by 10%.
Saunas have been used for thousands of years to sweat out toxins and improve health. If you've decided to install a sauna in your home, these benefits will soon be yours.
But aside from sitting and sweating out to detox your body, there are other ways to improve the health benefits you get from your time in the sauna.
Exercising in the sauna is one way to amp up the results you can enjoy. Time in the sauna increases your body temperature and heart rate which can burn more calories.
To learn more about home saunas, check out Black Pine Spa's comparison of traditional vs infrared saunas.
Adding exercise into the mix can allow you to burn even more calories. However, it's important that you still stick to the recommended time limits so you don't overheat and put your health at risk.
As long as you respect the sauna rules of safety, exercising in the dry heat can perk up your energy level, help you sleep better at night and lower your blood pressure.
Here are seven exercises to incorporate into your sauna routine: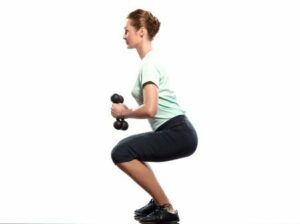 #1 Squats – Although they are a basic exercise, squats are very effective. A proper squat is done with the back straight. Lower yourself to a position like you are sitting in a chair. Squats should be done slowly.
Once you get to the "seated" point, hold for one to two seconds, then slowly return to a standing position.
Do a set of 10-20 squats (depending on your fitness level), pause and then do a second set.
#2 Pushups – This is another classic, yet highly effective exercise. Standard pushups are done with your hands placed slightly wider than shoulder width, your feet together and your body in a straight line. Lower yourself down by bending your elbows until your chest is a couple of inches off the ground. Pause one second, then return to the start position. If you can't do a full pushup, do a modified one with your knees down.
Do a set of 10-20, pause and then do a second set.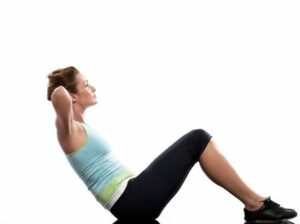 #3 Crunches – You can do these on the bench or floor, whichever is most comfortable. If the surface is too hot, roll out a towel to lie on.
Crunches aren't full sit-ups. Put your arms across your chest and lie back with your knees up and feet planted firmly.
Lift up just until you feel your abdominal muscles engage then hold for a few seconds before returning to the start position.
Do a set of 10-30 (depending on your fitness level), take a one minute break then do another set.
#4 Shadow boxing – This gets your whole body moving and elevates your heartbeat more rapidly. This is great to do with music to time your punches to the rhythm. Stay on the balls of your feet, lunge and rock.
Bob your head like someone is throwing blows and alternate between holding your hands in guard position and then throwing punches.
This will quickly get your heart racing and if you're too tired to keep throwing punches, dance around and stay in guard stance.
#5 Stretching – If you work out before or after taking your sauna, you may want to stick to something more relaxing. A stretching regimen is perfect.
Try shoulder shrugs, standing on tiptoe to stretch your calves and circling your arms to stretch out your shoulders. For a hamstring stretch, sit on a towel and reach for your toes with a straight spine. Hold that for 15 seconds then repeat. Neck rolls are also great for de-stressing in the sauna. Any stretch is effective in the sauna.
A word of caution…
Before taking on sauna exercises beyond mild stretching, talk to your doctor, particularly if you have a medical condition or an injury. No matter if you're relaxing or exercising, you should never exceed more than 15-20 minutes in your sauna.
When you first start taking a sauna, you likely won't be able to do more than 5-10 minutes. Staying hydrated is important. You should drink before, during and after your sauna session. If you ever feel dizzy, you should exit the sauna immediately. Also, be sure to follow the factory recommended instructions that came with you sauna and seek medical advice for any concerns.
If you're considering a sauna for your home, Black Pine Spas can help you discover which sauna is a fit for your home, lifestyle and budget. Come by our showroom, call for a free in-home consultation or browse our online showroom if you're outside of Seattle.We deliver free anywhere in the continental US and always beat competitor prices by 10% (or more). Call (425)771-5774 to speak to one of our expert staff.