Hot Tub Installation
All those crisp, clear nights; just you, the shining stars, a cool drink, and the bubbly warmth of your hot tub.
Enjoying a nice, healthy soak has never been easier. The therapeutic warmth will relax and sooth your tired muscles at the end of a hard day, and the invigorating massage of the jets and bubbles help to invigorate you to face the world with a fresh outlook.
Modern hot tub spas are self contained units, so on the surface, installation should be a snap. Just drop the unit in place, fill it with water, plug it in and wait for the water to heat up, and then soak, right? Like so many things, it is just that easy, and a lot more complicated.
Hot tubs must have been invented by the real estate industry, because enjoying your hot tub comes down to three things; location, location, location! If you are replacing an old hot tub, and the new one will be going in the same spot, life is easy. A new installation requires some thought and planning.
The first thing you will need to think about, especially if you want to take advantage of the drop-it-in-fill-it-up simplicity, is whether there is water and the proper power available at your installation site. Water can come from a garden hose, of course, but most full sized hot tubs require 220V electric power rather than the standard household 110V current. If you will need to add new wiring for the installation, it may be best to let a professional make the actual connections.
It won't hurt to give some consideration to the route your hot tub delivery men will have to take when they bring the tub. Is the path from the truck to your installation site free from obstructions like plants, fences, doorways or doghouses? There is an art to moving heavy, bulky items, and your delivery people are probably pros, but remember that a hot tub is even bigger and clumsier than a couch!
Here are a few other considerations for the actual spot your tub will sit. Most people would love to have a nice view while they soak, but remember to consider your neighbors. Do you really want them to see you using your hot tub?
Personally I love to use my hot tub in any weather. There is nothing like being in the warm water during a snow storm. Others can't stand the thought of using their hot tub in the rain (maybe they are afraid they will get wet). It is certainly possible to put a hot tub under a gazebo or even indoors, just remember that there will be a lot of steam and moisture that could be harmful to your structure.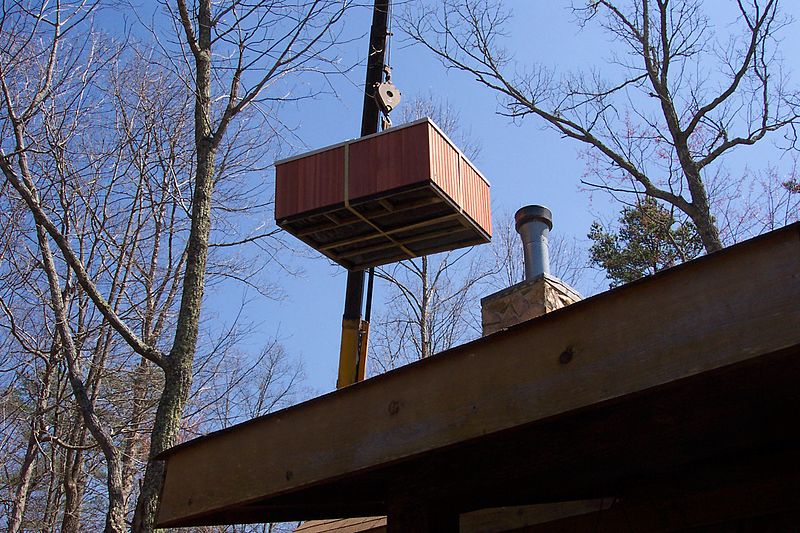 What is under your hot tub as important as what's over it. Other than the weight of the fiberglass shell and the pumping and heating machinery, your hot tub is mostly insulating foam. But when it is filled with 300-800 gallons of water, it is heavy enough to be of concern. Many hot tub owners prefer to place their tub on a permanent cement pad. Remember that the slab will need to be larger than the tub, and at least 4 inches thick.
Cement pavers from the home improvement store is another option. Best of all, while they are adequate support for the tub, they are not necessarily permanent. Remove an area sod, lay and level some sand, and carefully place the pavers in place.
Decks are a popular location for hot tubs, but check to ensure your deck meets local building codes, and that it is strong enough to support the tub.