Imagine coming home from a long day and sinking into the warm, soothing waters of your very own luxury hot tub.
The stress of the day melts away as you indulge in complete relaxation, surrounded by the beauty of your backyard oasis.
We firmly believe everyone deserves to experience this level of comfort and tranquility.
That's why we have carefully curated a selection of six incredible luxury hot tubs that will elevate your relaxation to new heights.
From spacious designs to advanced features, these hot tubs are sure to meet your every need.
So, if you're ready to elevate your relaxation game and transform your backyard into a dreamy aquatic escape, keep reading to explore our favorite luxury hot tubs.
Your well-deserved serenity is just around the corner!
Choosing the Perfect Luxury Hot Tub for Your Needs
When it comes to selecting a luxury hot tub, there are numerous factors to consider, and each individual has unique relaxation requirements and preferences that will influence their decision.
Here are some key points to keep in mind as you embark on the journey of finding the perfect home spa.
Size and Capacity
Determine how many people will be using the hot tub regularly and consider the available space in your backyard.
Whether you're planning intimate soaks for two or large gatherings with friends and family, there are a range of sizes and seating capacities to choose from.
Features and Specifications
As you consider the various models on the market, think about the specific features and specifications that are important to you.
Are you looking for powerful hydrotherapy jets to target specific muscle groups?
Or are elements such as LED lighting and integrated sound systems a priority for creating the right ambiance?
Knowing how you wish to use your spa and the experience you envision, will help you narrow down the features that are most important to you.
Energy Efficiency
With rising energy costs, energy efficiency has become a significant consideration for many hot tub buyers.
Look for models that feature advanced insulation and efficient pumps and heaters, which can help reduce energy consumption and save you money in the long run.
Budget
It's important to establish a budget before beginning your search for a luxury hot tub.
With varying sizes, qualities, and base features, hot tubs can have a wide range of price points.
This makes it possible to find a high-quality hot tub that fits within your budget.
Better yet, with hot tub financing options, your dream model may be more affordable than you first thought!
Customization Options
Tailoring your hot tub to your specific preferences can enhance your overall relaxation experience.
The features of your hot tub can allow you to create a hydrotherapy experience that truly reflects your personal style and taste.
Consider customization options such as shell color, cabinet finish, and optional features like waterfalls or sound systems.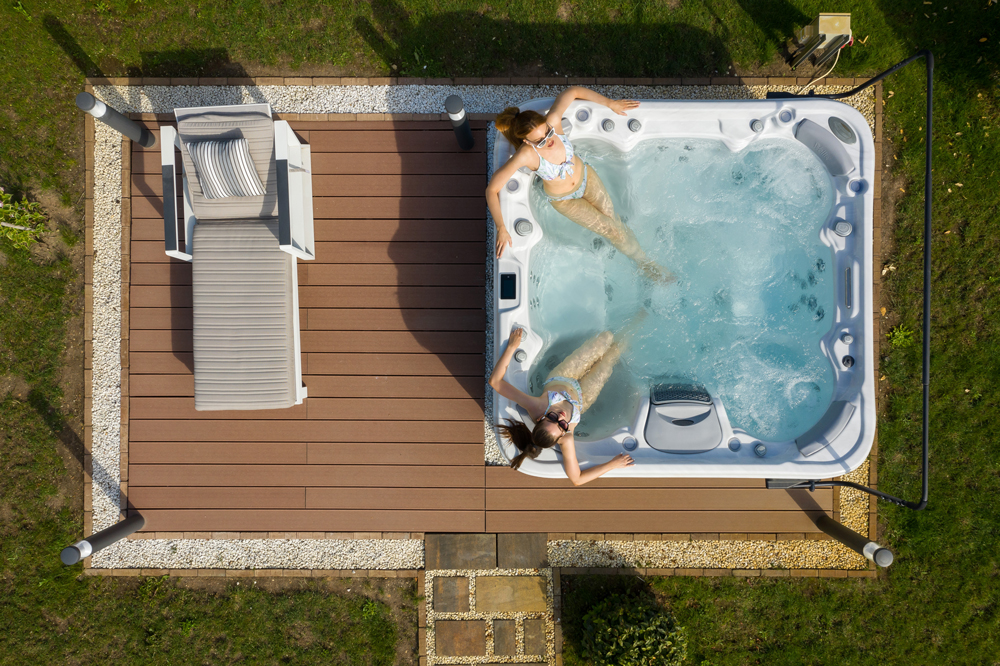 Top 3 Luxury Wellis®️ Hot Tubs
Now that you have a better understanding of the factors to consider when choosing a luxury hot tub, it's time to explore the wide selection of models at Black Pine Spas.
Our showrooms are stocked with two industry-leading brands; Wellis®️ Hot Tubs and Artesian Spas™️, each offering their own unique designs and features.
Let's start by exploring three models from Wellis®️ Hot Tubs.
1. A Couples Paradise – The Orion P&P
The Orion P&P hot tub from Wellis®️ is the ultimate couples retreat.
This spa features two lounge seats with 30 massage jets of different design and functionality, providing you with the utmost relaxation and rejuvenation.
The carefully crafted design of this model targets a multitude of daily aches and pains, while the underwater LED lighting system creates a serene ambiance for you to unwind.
With optional features such as an audio system and exclusive LED lights, this hot tub elevates your spa experience to new heights.
Complete with an ozone generator and 120V Plug & Play capability, the Orion P&P is designed to deliver convenience and luxury in one perfect package.
2. Hydrotherapy For The Whole Family – The Mont Blanc
The Wellis®️ Mont Blanc hot tub is the epitome of hydrotherapy for the whole family.
Featuring a spacious layout that accommodates seven adults, and the WellDome™ foot massage system, this spa offers the ultimate relaxation for you and your closest loved ones.
The Mont Blanc boasts 78 chrome-finished adjustable water jets, creating a customizable and invigorating massage experience.
Equipped with advanced features like UV-C Water Sanitization and MyMusic™ 2.1 audio system, this hot tub ensures optimal cleanliness and entertainment.
The exclusive chromotherapy LED lighting and soothing waterfall add a touch of elegance and serenity to your spa oasis.
Experience the luxury of the Mont Blanc and enjoy the benefits of hydrotherapy for your entire family.
3. The Socialites Dream – The Olympus
Introducing the Wellis®️ Olympus hot tub, the ultimate socialite's entertainment oasis!
With a seating capacity of up to nine people, this hot tub is perfect for gatherings and conversations, whether it's during a girl's weekend, or your next holiday party!
The Olympus offers dual lounge seating and 88 jets, guaranteeing a full-body massage that will leave you feeling rejuvenated.
Unique to the Olympus is the EyeJet™ design, providing children with splashing fun.
This hot tub also includes features like UV-C water sanitization, aromatherapy, and a smartphone app with WiFi control, allowing you to customize your spa experience fully.
Experience luxury, relaxation, and unforgettable social moments with the Olympus hot tub from Wellis®️.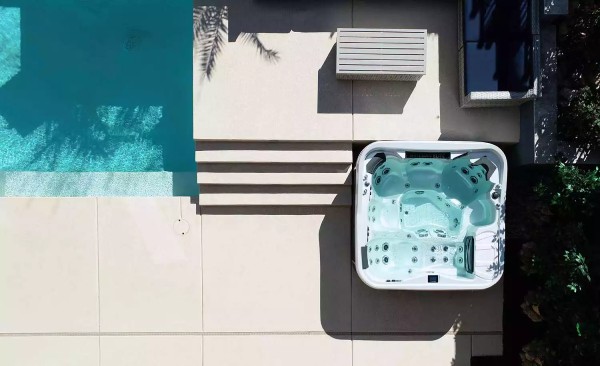 3 Stunning Luxury Hot Tubs From Artesian Spas™️
Now let's dive into three models from Artesian Spas™️ that are sure to leave you in awe!
1. For Those With Smaller Yards – The Camellia
The Artesian™️ Camellia hot tub is the perfect solution for those with smaller yards, without sacrificing luxury.
This spa can comfortably seat five adults and features an open seating corner design, maximizing usable space in your backyard.
With 23 jets strategically placed to target various muscle groups, the Camellia delivers an exceptional hydrotherapy experience.
Indulge in soothing LED lighting while enjoying the low-maintenance beauty of its maintenance-free cabinetry.
The Camellia combines style, efficiency, and a compact design to enhance your relaxation and convenience, no matter the ie of your outdoor space.
2. A Family-Friendly Oasis – The Pelican Bay
Transform your backyard into an exciting oasis perfect for the whole family with the Pelican Bay hot tub.
With its spacious 9-seat layout, this spa is designed for entertaining and relaxation.
The Pelican Bay hot tub features 71 high-performance jets and personal control modules for individualized massages.
The WhisperPure™ Circulation System ensures clean and safe water, while the Pillowfall adds a gentle flow of water cascading down your neck and shoulders to ease muscle tension.
Constructed with durable materials to withstand extreme weather conditions, the Pelican Bay is the ultimate combination of luxury, comfort, and durability for your family's enjoyment.
3. A Haven for Quality Time – The Captiva Elite
Experience effortless relaxation and individual control with the Captiva Elite hot tub.
This 7-person spa boasts an open seating design, allowing you to choose your preferred seat and massage pressure.
Powered by DIRECTFLOW Personal Control®, the Captiva Elite offers the best hydrotherapy experience possible.
With 55 jets strategically placed to target specific muscle groups, this spa provides therapeutic benefits and stress relief with ease.
The WhisperPure™ Circulation System will keep your water clean and safe water, while the WiFi app keeps you in full control of your spa experience right from your phone.
Create cherished memories with your loved ones in the quality time haven of the Captiva Elite.
Creating a Backyard Oasis with Your Luxury Hot Tub
When it comes to transforming your backyard into an oasis of relaxation, incorporating a luxury hot tub is the perfect way to create that serene ambiance, but it only goes so far.
That's why we've compiled some design ideas and tips on how to make your hot tub seamlessly blend into your outdoor space, enhancing both privacy and aesthetics.
1. Landscaping for Privacy and Beauty
Surround your hot tub with lush greenery, such as tall bushes or trees, to create a natural privacy barrier.
Strategically place potted plants or decorative garden screens around the perimeter for added privacy and a touch of beauty.
Incorporate trellises or pergolas into your backyard design to create an inviting entrance to your hot tub area and provide shade.
2. Lighting and Ambiance
Install soft lighting around your hot tub to set the mood and create a relaxing atmosphere.
Opt for LED lighting options that allow you to customize the color and intensity to suit your preferences.
Add string lights or lanterns to overhead pergolas or trees for a cozy and magical feel.
3. Accessories and Essentials
Consider adding a gazebo or cabana near your hot tub to provide a shaded area for lounging and entertaining.
Include comfortable seating options, like outdoor sofas or lounge chairs, for guests to relax and enjoy the scenery.
Enhance the overall ambiance with features like a fire pit, water fountain, or outdoor speakers for soothing music.
4. Inspiration for Your Backyard Oasis
Create a Zen-inspired space with a minimalist design, incorporating clean lines, neutral colors, and a tranquil waterfall feature.
Design a tropical paradise with vibrant flowers, palm trees, and colorful cushions and throws for a vibrant and inviting atmosphere.
Opt for a rustic retreat by incorporating natural elements like stone pathways, wooden furniture, and a cozy, wood-burning fireplace.
Remember, when designing your backyard oasis, the goal is to create a space that reflects your style and provides a sanctuary for relaxation.
Maximizing Your Investment: Professional Service and Support
When investing in a luxury hot tub, it's essential to consider the long-term maintenance and support that comes with your purchase.
At Black Pine Spas, we strive to provide our customers with the highest level of satisfaction even long after you've made your purchase.
That's why we offer exceptional service, and ongoing support to ensure your investment lasts for years to come.
We believe that providing reliable and timely assistance is of utmost importance.
With our seasoned and knowledgeable technicians, you can trust us to promptly address any concerns or issues that may arise with your hot tub.
Whether it's a leak, a malfunction, or simply routine maintenance, our technicians have the expertise to tackle it all.
Some advantages of choosing Black Pine Spas for your hot tub maintenance and service needs include:
● Convenient on-site inspections: Our technicians are available to ensure your hot tub is in peak condition and detect any potential issues before they become major problems.
● Repairs and troubleshooting: If you experience any difficulties with your hot tub, rest assured that our experts have the skills and knowledge to diagnose and fix the issue effectively.
● Scheduled maintenance tasks: We'll help you develop a regular maintenance routine to keep your hot tub running smoothly year-round, including filter cleaning, water chemistry checks, and more.
Maximizing your investment in a luxury hot tub means having peace of mind, knowing that you have the support, knowledge, and expertise of a trusted provider.
Top FAQs About Hot Tubs
What are the key features to look for in a hot tub?
When choosing a luxury hot tub, it's important to consider features such as therapeutic jets for a soothing massage, ergonomic seating for comfort, customizable lighting for ambiance, and premium sound systems for enhanced relaxation. These features can truly enhance your overall hot tub experience.
Can hot tubs improve sleep quality?
Yes, hot tubs can indeed improve sleep quality. The combination of warmth, buoyancy, and soothing jets can relax your muscles and ease tensions, promoting better sleep. Additionally, the release of endorphins during a hot tub session can also contribute to improved sleep patterns.
Do hot tubs require high maintenance?
While luxury hot tubs do require some maintenance, hot tubs equipped with advanced filtration systems, user-friendly controls, and durable materials simplify the upkeep process.
Shop Luxury Hot Tubs in Lynnwood
At Black Pine Spas, we offer the highest quality brands at affordable prices.
To bring your experience further, your spa will be backed by our expert service technicians, who can assist you with repairs and maintenance, ensuring your spa remains in top condition.
With our convenient locations in Tacoma and Lynnwood, we are ready to make your home and backyard dreams come true.
Contact your nearest team today to start your journey towards ultimate relaxation with our luxury hot tubs.