Each game room is as unique as the homeowner's themselves, so it's essential that your game room décor be a reflection of your taste but also with an eye toward how you will use the room so that you can amp up style without sacrificing functionality. In addition to outfitting it with cool equipment like a custom pool table, today we'll show you four themed ideas to inspire the planning for your game room design.
Classic Car
For all those car lovers out there, this style is for you. Whether you're into classic cars of the 50s or 60s, muscle cars, street machines or NASCAR, you can go hog-wild and infuse the entire space with auto inspired décor or stick to a few key elements. The classic car sofa in the pic above is sure to be a conversation starter and the corrugated steel wall evokes the sense that you're in a shop. Photos of refurbished cars, license plates, grills and headlights can all be incorporated in and around your pool table, card table and other game room goods to create a one of a kind look.
Casino Vibe
If you're a card shark, host a weekly poker game or can't get enough of Las Vegas, this game room design may be just the thing for you. A pool table, gaming table for blackjack or poker and a stylish modern bar will have you feeling like you're in Sin City down in your basement. Flashy lighting, stylish artwork (think neon or dogs playing poker) and buttery leather seating in classic card deck colors – black, red, white will give you a complete casino feel. This is a great theme for an upscale man cave, a young couple that enjoys entertaining or retirees that enjoy card and game nights.
Sci-Fi Nerdfest
If you love Star Trek, Star Wars, Doctor Who or any aspect of sci-fi geeky goodness, this can be the perfect theme for your game room. A pool table with light saber red felt (or Tardis blue), a classic sci-fi pinball machine, and movie posters in sleek black frames are all great ideas. If you've got memorabilia and collectibles, custom shelves or wall mounted display cases can show off your geeky goods – spread them around to make them stand out more instead of grouping them into large clusters. ThinkGeek.com has an R2D2 trashcan, bar ware and other nerdy accoutrements to outfit your game room.
Sports Loving Man Cave
One idea that many game room owners like is a sports theme. What's cool about this is that it can focus on one specific team, one player, your local city franchises, one sport or just sports overall. If you've got player jerseys, frame them. Build custom shelves or shadow boxes for autographed balls or gloves. Rich deep green billiard felt evokes a lush grassy playing field. Custom leather seats are a nice touch, but you can also look for reclaimed stadium seating for an authentic ballpark feel. A big screen TV (or two or three) are a must for game watching from all seats in your room.
Final thoughts…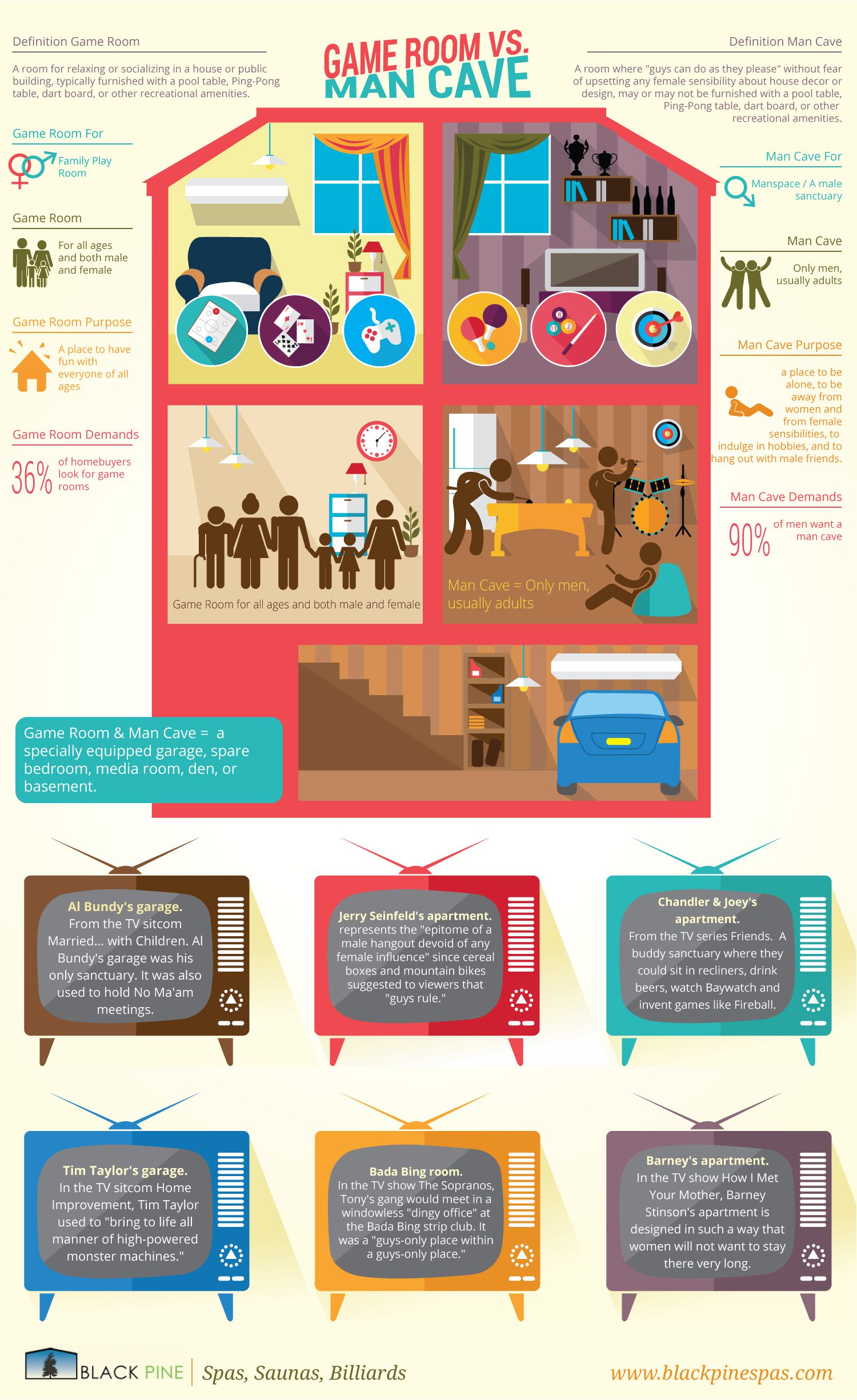 Other ideas can be a room dedicated to classic board games if your room will be used by a younger crowd. If you've got a favorite director (Hitchcock, Tarantino, Spielberg), you can go for a cinematic game room with movie posters, film reels and big screens to watch Color of Money while you shoot pool or Forrest Gump while you host a ping pong tournament. The options are endless, but the smart money is on choosing something you can live with for years to come so you'll get the most bang for your buck.
Contact Black Pine Spas for a free in-home consultation on your game room project. Our experts will help you come up with a one-of-a-kind design that reflects your interests, your style and works well in your home.