Year after year, hot tubs continue to be the epitome of luxury and relaxation. And what better way to enhance your hot tub experience than by sharing it with your favorite people?
Whether it's with friends or family, a 6-person hot tub is the perfect size for socializing and reconnecting.
At Black Pine Spas, we understand the importance of creating unforgettable moments in your backyard oasis.
When it comes to 6-person hot tubs, we have carefully handpicked a selection of industry-leading brands, including Artesian Spas™️, and Wellis®️ Hot Tubs.
Each brand offers unique features and designs, ensuring you can find the perfect hot tub to match your lifestyle and taste.
From promoting relaxation and stress relief to providing therapeutic hydrotherapy, 6-person hot tubs are designed to deliver the ultimate rejuvenation experience without compromising your social life.
Read on to discover the best 6-person hot tubs to entertain and unwind with your loved ones.
Why a 6-Person Hot Tub is Perfect for Boosting Your Social Life
Imagine gathering around the warm, bubbling waters of a 6-person hot tub, surrounded by laughter and conversation.
It's an opportunity to create unforgettable memories and connect with loved ones in a truly unique setting.
Here are some reasons why a 6-person hot tub is ideal for socializing.
Enjoy quality time
Hot tubs provide a space for uninterrupted conversations and bonding with friends and family.
Better health together
Soaking in a hot tub can provide various health benefits, such as reduced stress, improved circulation, and relief from aching muscles.
By sharing your hot tub with loved ones, you can all experience these benefits together, while supporting your mental health with meaningful connections.
Create lasting memories
Imagine enjoying a beautiful sunset or stargazing from the comfort of your hot tub with those you care about. These shared experiences create memories that will last a lifetime.
Space for everyone
With a 6-person hot tub, there's room for a group of friends or the whole family to comfortably relax and unwind, with the flexibility to create a cozy, intimate atmosphere when desired.
Designed for socializing
Many 6-person hot tub models feature spacious seating arrangements and strategically placed therapy jets to ensure everyone can enjoy the ultimate relaxation experience.
Versatility
These hot tubs are not only perfect for socializing but can also be used as a centerpiece for backyard parties and gatherings. It adds elegance and style to any outdoor space.
Investing in a 6-person hot tub is not just about relaxation; it's about creating unforgettable moments, promoting health and well-being, and connecting with your loved ones.
The Best 6-Person Hot Tubs in 2023
Are you ready to take your backyard gatherings to the next level?
Look no further – we have the perfect solution for you. At Black Pine Spas, we carry models from two industry-leading brands, Artesian Spas™️ , and Wellis®️, ensuring our showroom has something for everyone.
Keep reading to explore our collection of the best 6-person hot tubs this year.
Discover the unique features and design elements that make each model stand out, and find the perfect hot tub that fits your lifestyle and personal preferences.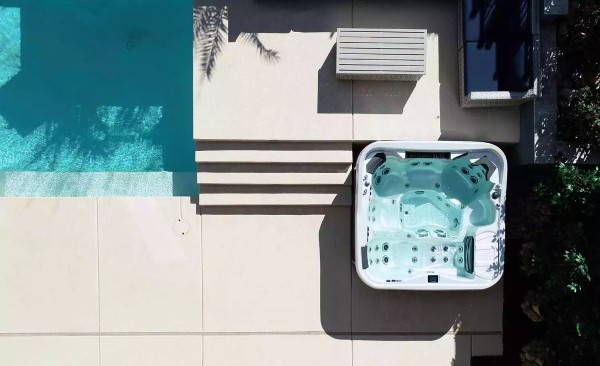 The Top 6-person Hot Tub Models From Artesian Spas™️™️
When it comes to luxurious and stylish 6-person hot tubs, Artesian Spas™️ stands tall as one of the top brands in the market.
Known for their exceptional craftsmanship and attention to detail, Artesian Spas™️ offers a range of 6-person models that are sure to impress aesthetically and functionally.
Here are three of our favorite models..
The 860L Deluxe Hot Tub
Imagine stepping into a warm and inviting oasis, where the cares of the day melt away, and tranquility takes over.
That's precisely what the 860L Deluxe Hot Tub promises each time you sink into its toasty embrace.
Escape the stresses of everyday life as you immerse yourself in the therapeutic waters of this hot tub.
The carefully crafted seating, including a luxurious lounger, invites you to unwind and rejuvenate, while the powerful jets massage your body, providing relief and relaxation.
Paired with integrated LED lighting, this spa sets the mood for a blissful retreat.
Its durable construction and advanced technology ensure years of trouble-free operation, so you can enjoy its benefits for many years to come.
The Wisteria Hot Tub
The Wisteria Hot Tub is a luxurious oasis designed to redefine your relaxation experience.
With seating for up to six adults, including an inviting lounge area, this spa offers the perfect space for gatherings or intimate relaxation.
Its 27 hydrotherapy jets, crafted for durability and precision, provide a full-body massage, while customizable LED lighting sets the water glowing.
Built to withstand the elements, the maintenance-free cabinetry ensures lasting beauty thats easy to care for.
The quality construction, from its pressure-treated wood frame to its hand-crafted acrylic shell, guarantees years of comfort and enjoyment.
Elevate your lifestyle and create lasting memories with the Wisteria Hot Tub – where luxury and quality converge to transform your backyard into an extraordinary retreat.
The Nevis Hot Tub
The Nevis Hot Tub is a haven of relaxation and cutting-edge technology designed to redefine your spa experience.
With comfortable seating for up to six adults, including luxurious lounge seating, this hot tub is perfect for both intimate gatherings and personal retreats.
The Nevis boasts 35 high-quality jets, ensuring a full-body hydrotherapy massage that melts away stress and tension.
What sets the Nevis apart is its advanced technology. With standard and optional features that enhance your comfort and relaxation, you're in control of every aspect of your soak.
Easily adjust water flow to customize your massage experience, and even manage your water temperature and filtration remotely through our convenient Wi-Fi app.
This model also offers maintenance-free cabinetry, constructed with pressure-treated wood and a weather-resistant ABS base, ensuring it can withstand extreme weather conditions, preserving its beauty and functionality.
Elevate your relaxation with the Nevis Hot Tub, where comfort, technology, and durability come together for an exceptional spa experience.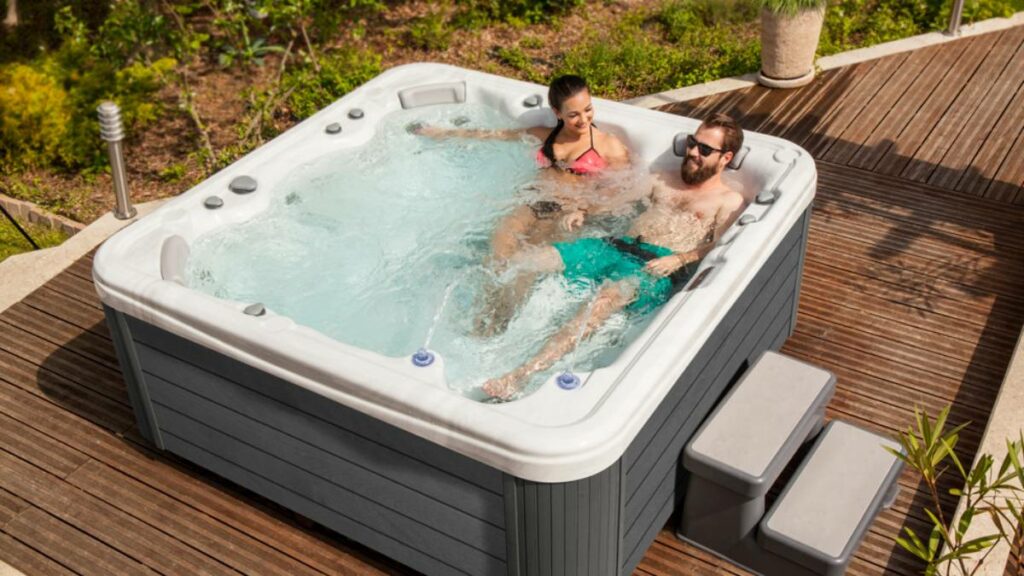 Stunning 6-Person Hot Tubs From Wellis®️®️
Wellis®️ has established themselves as a premier luxury brand in the hot tub industry, known for their commitment to quality and innovative models.
Designed with both elegance and comfort in mind, their 6-person hot tubs are perfect for creating a sophisticated and enjoyable backyard experience.
Here are some of the top 6-person Wellis®️ hot tub models to elevate your social gatherings.
The Hercules Hot Tub
With spacious seating for up to six adults, including luxurious lounge seating, the Hercules hot tub provides the perfect oasis for relaxation and socializing.
This spa boasts an impressive 45 high-quality jets, delivering a powerful hydrotherapy experience that soothes and rejuvenates your entire body.
The Hercules Hot Tub offers advanced features that set it apart. With a cutting-edge water management system, including an ozone generator and an antibacterial paper filter, your water stays crystal clear and hygienic.
Its Scandinavian insulation ensures energy efficiency, while the WPS frame, made of a special polymer, guarantees exceptional stability and longevity for your investment.
Immerse yourself in the 16 exclusive color therapy lighting options and enjoy the tranquil ambiance created by the fountain jets.
The Taurus Hot Tub
Looking for a top-tier spa that won't break the bank? Look no further than the Taurus hot tub!
With spacious seating for up to six adults, with a lounger stretching across one side, this model provides the perfect space for unwinding with friends and family.
This exceptional hot tub boasts an impressive array of 52 high-quality jets, offering an extensive hydrotherapy experience that pampers every inch of your body.
The Taurus Hot Tub goes above and beyond with its advanced features. Equipped with a state-of-the-art water management system, including an ozone generator and three MicroPlus paper filters, your water remains consistently clean and pure.
Two elegant fountain jets add to the ambiance, while 13 exclusive LED lights built into the sidewall of the hot tub create a soothing and visually stunning atmosphere.
Scandinavian insulation and an optional sound system enhance the overall experience, making the Taurus Hot Tub from Wellis®️ the epitome of comfort, luxury, and relaxation.
Indulge in the ultimate spa experience and elevate your well-being.
The London Hot Tub
Designed to provide a relaxing massage after a busy day, the London hot tub features 40 massage jets spread throughout the spa.
To bring your relaxation even further, this model includes switchable shoulder and neck massage jets!
The London Hot Tub also offers aromatherapy technology, adding another layer of luxury to your spa experience. Enjoy the soothing scents of your choice as the water swirls around you, easing weary muscles and soothing aches and pains.
Featuring a MicroPlus paper filter and UV-C water sanitizer, this model makes water care effortless, keeping your water crystal clear with fewer chemicals.
The energy-saving W-EC circulating pump operates quietly, offering both environmental friendliness and cost-effectiveness.
Enjoy the calming ambiance created by the waterfall, 16 exclusive LED lights, illuminated controls, and accent W-Side corner lighting.
The London Hot Tub from Wellis®️ is the perfect blend of style and functionality, elevating your well-being and transforming your backyard into a haven of serenity.
FAQ's About 6-Person Hot Tubs
What should I consider when buying a 6-person hot tub?
When purchasing a 6-person hot tub for socializing, consider factors such as:
Seating capacity
Jet placement and power
Insulation
Energy efficiency
Durability
Maintenance requirements
You'll also want to consider optional features such as LED lighting, aromatherapy, and sound systems.
What are the advantages of a 6-person hot tub?
A 6-person hot tub offers ample space for socializing with family and friends. It allows everyone to relax and enjoy the therapeutic benefits of hydrotherapy together.
The larger size provides more seating options, customizable jet placements, and the potential for added entertainment features such as Bluetooth speakers or LED lighting for a memorable social experience.
What maintenance is required for a 6-person hot tub?
Regular maintenance is crucial to keep your 6-person hot tub in optimal condition.
This typically involves water chemistry testing and balancing, cleaning and sanitizing the spa, checking and replacing filters as needed, and ensuring proper circulation and heating.
It's important to follow manufacturer guidelines and consult professionals for expert advice to extend the lifespan of your hot tub.
6-Person Hot Tubs for Sale in Lynnwood and Tacoma
There's no better way to socialize in style than with a luxurious 6-person hot tub.
Not only does it provide a space for creating unforgettable memories with friends and family, but it also adds an elegant touch to your backyard oasis.
At Black Pine Spas, we understand the importance of finding the perfect hot tub to bring your loved ones together.
That's why we proudly offer top-of-the-line hot tub models from leading brands such as Artesian Spas™️™️, and Wellis®️®️.
But at Black Pine Spas, our commitment goes beyond just selling hot tubs.
With our team of expert technicians and comprehensive parts department, we ensure that your hot tub receives professional service and efficient repairs.
So why wait?
Enhance your next family get-together with a 6-person hot tub from Black Pine Spas! Visit our showrooms in Lynnwood and Tacoma to witness our wide selection firsthand, and let our experienced staff guide you towards creating the backyard of your dreams.