Who are hot tubs for? The answer used to be the 'well-to-do'; but these days enjoying the relaxing and therapeutic benefits of an indoor or outdoor spa is available in a variety of styles to suit a range of customers. For would-be spa owners in the Seattle area contemplating a hot tub, we've created this first-time buyer's guide to help consumers prepare, plan and purchase the right hot tub for their lifestyle and budget.
Create a vision
The process of buying a hot tub begins with knowing what the spa will be used for and what space it will occupy in or around your home. Will the spa be used for relaxation and entertaining or will it serve as a therapeutic device to combat medical conditions? Therapeutic tubs for example, may have additional jets whereas spas meant for socializing will be larger and include features like lights or speakers.
It's also important to decide if your spa will be installed indoors or outdoors. Covered, outdoor hot tubs can be used comfortably year round. Indoor hot tubs require additional assessment and maintenance to protect against moisture and water damage but once installed can be easily (and privately) used anytime in any weather.
What Kind of Maintenance is Required?
Know and understand the maintenance requirements and schedule required to keep a spa in good working order throughout its lifetime.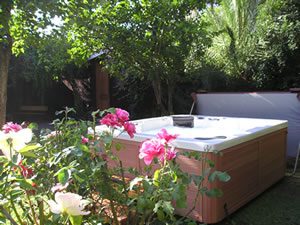 A few times each year spa owners must remove and clean the filters, drain the hot tub completely and clean thoroughly.
A weekly 'shock' of chlorine and other sanitizers is also necessary to keep the hot tub's water clear and clean. Follow the instructions on the bottle and check-in with a hot tub specialist to ensure you are using chemicals correctly.
Check the spa's pH balance daily if possible using a testing kit to make sure the water consistently measures at the recommended level.
Go to the Experts
A poorly installed hot tub serviced by semi-experts can wreak havoc on indoor and outdoor spaces alike. Connect with an experienced and certified electrician and consult with a specialized vendor to identify the dimensions and power requirements necessary to accommodate your spa. There are a variety of spa brands and set-up options to choose from and an experienced Seattle spa technician can ensure installation is completed to your specifications while complying with local and federal codes.
Purchasing a spa from a reputable expert also gives customers access to in-house, certified maintenance and repair personnel. Find a retailer who guarantees and services what they sell and has the capacity to manage upgrades and modifications.
To learn more about buying and installing your first spa click here, or contact the experts at Black Pine Spa and Billiards today!